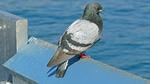 Family
Columbidae
Habits
Diurnal,
Habitat
Open Woodland, Cliff-dwelling, wheatgrowing areas, rock holes and cliffs on southern coast and river red gums along the banks of inland rivers.
Breeding
Breeds in all months, 2 eggs, glossy white. Incubation 17-19 days by both sexes, several successive broods. Young fledge in 30-35 days.
Diet
Ominivore, food scraps; grain eaters.
Details
| | | | |
| --- | --- | --- | --- |
| Common Name: | Feral Pigeon, Rock Dove | Scientific Name: | Columba livia |
| Sub Order: | Unavailable | Order: | Columbiformes |
| Class: | Aves | Category: | Feral |
| Status: | Introduced | Size: | 330 - 340 mm. |
This page has been viewed times