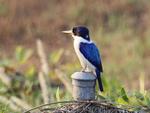 Family
Alcedinidae
Description
Brilliant deep-blue above, paler on back and rump; spot before eye and underparts pure white; male has broad white rear-collar. Immature: duller; back greener; white areas tinged buff.
Habits
Diurnal,
Habitat
Forest Woodland Grassland, Northern Australia; open forests woodlands and their edges; rainforest.
Breeding
October to December, 4 to 5; white and rounded. Usually two broods a season. Incubation by both sexes, and feeding of the young also.
Parks
Kakadu National Park
Diet
Carnivore, Large insects; small lizards; fish & crabs.
Details
| | | | |
| --- | --- | --- | --- |
| Common Name: | Forest Kingfisher | Scientific Name: | Todiramphus (Halcyon) macleayii |
| Sub Order: | Unavailable | Order: | Coraciiformes |
| Class: | Aves | Category: | Endemic |
| Status: | Least Concern | Size: | 190 - 220 mm. |
This page has been viewed times