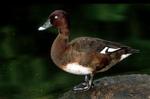 Family
Anatidae
Description
Male: a compact rich-mahogany duck with white eye, and stern, blackish bill crossed by blue-white band near tip. Female: paler-brown, with dark eye; bill blue-grey; some have whitish throat. Immature: uniform dark yellow-brown, dark eye.
Habits
Gathers food by diving Seldom comes to land, and never perches in trees.
Habitat
Coastal Wetlands, Pools; swamps and streams; inland waters and fringing forests.
Breeding
Breeds in wet months but mainly spring. 9 to12 eggs; creamy white; in a depression in ground lined with grass and feathers in cane grass Incubation about 25 days by the female.
Parks
Kakadu National Park
Diet
Omnivore, Aquatic animals and plants.
Details
| | | | |
| --- | --- | --- | --- |
| Common Name: | Hardhead | Scientific Name: | Aythya australis |
| Sub Order: | Unavailable | Order: | Anseriformes |
| Class: | Aves | Category: | Native |
| Status: | Least Concern | Size: | 420 - 580 mm. |
This page has been viewed times