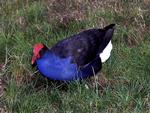 Family
Rallidae
Habits
Live in territorial groups, of 2-10 nesting together and incubating together on the same large nest..
Habitat
Wetlands, Reedy marshes and flats of wetlands; banks of freshwater and saline swamps; lakes and streams.
Breeding
Breeds all year round, 5 to 7; pale-creamy brown, spots purplish-brown marks slate-grey. Group of 2-10 birds live together incubate young on a single nest.
Parks
Kakadu National Park
Diet
Omnivore, Grass; aquatic plants and freshwater molluscs.
Details
| | | | |
| --- | --- | --- | --- |
| Common Name: | Purple Swamphen | Scientific Name: | Porphyrio porphyrio |
| Sub Order: | Unavailable | Order: | Gruiformes |
| Class: | Aves | Category: | Endemic |
| Status: | Least Concern | Size: | Unavailable |
This page has been viewed times