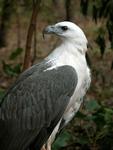 Family
Accipitridae
Description
A large white eagle with grey-brown wings, white wing-linings and grey flight-feathers divide wing into white and grey triangles, wedge-shaped white tail grey at base. Immature: very dark-brown, streaked and spotted fawn, tail buff-white, face and throat buff, underparts and flight-feathers blackish.
Habits
Diurnal, Hunts from a perch or while flying, swooping down to seize its prey in its talons Pairs are permanent and hold the same hunting range year round. Sedentary or nomadic.
Habitat
Coastal Wetlands Forest Woodland, Foreshores; mud-flats; sand-spits. Throughout coastal Australia; inland waters and fringing forests. Builds nest in Paperbark forests adjacent to floodplains.
Breeding
May June July August September October, 2; faint bluish-white eggs are incubated by the female for about 42 days and young fly after 9-10 weeks
Parks
Kakadu National Park
Diet
Carnivore, Offal and carrion; mammals; tortoises; sea-snakes; fish; eels; crustaceans.
Details
| | | | |
| --- | --- | --- | --- |
| Common Name: | White-bellied Sea-eagle | Scientific Name: | Haliaeetus leucogaster |
| Sub Order: | Unavailable | Order: | Falconiformes |
| Class: | Aves | Category: | Native |
| Status: | Least Concern | Size: | 710 - 890 mm, span up to 2 m. |
This page has been viewed times