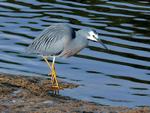 Family
Ardeidae
Description
Pale-grey heron with white face and yellow legs. Immature: paler; less white on face; legs greenish yellow.
Habits
Diurnal,
Habitat
Forest Coastal Grassland Wetlands, Frequents lakes; swamps; estuaries; mangroves; dams; tidal mudflats and grasslands throughout Australia.
Breeding
Breeds most of the year, depending on food supplies. 3 to 6; pale bluish green, nest of sticks in trees. Incubation 24-26 days by both sexes, young fledge in 40 days.
Parks
Kakadu National Park
Diet
Carnivore, Aquatic animals and insects; Crustaceans; squid; fish; insects; amphibians; spiders; snails and worms.
Details
| | | | |
| --- | --- | --- | --- |
| Common Name: | White-faced Heron | Scientific Name: | Egretta (Ardea) novaehollandiae |
| Sub Order: | Unavailable | Order: | Ciconiiformes |
| Class: | Aves | Category: | Native |
| Status: | Least Concern | Size: | 650-690 mm. |
This page has been viewed times