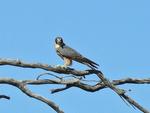 Family
Accipitridae
Description
Smallest Australian falcon, dark and long winged, slate-blue to brackish above, darker on head, white or buff forehead, throat and partial rear collar, black cheek-mark down from crown. Rufous underparts and trousers streaked blackish, flanks ocasionally marked with blue-grey. Bill blue-grey tipped blackish; cere, eyering and legs yellow. Immature: feathers of upperparts margined rusty; cere, skin eyering and legs bluish.
Habits
Diurnal, Uses nests of magpies, crows and other. Solitary and wary except when nesting.
Habitat
Grassland Forest Woodland, Open and lightly timbered country; mountain ranges; inland waters and fringing forests.
Notes
It is suggested some birds migrate to islands to the north of Australia (Deignan 1964).
Breeding
April May June, 3; buffy-white, hidden by reddish-brown markings. Female incubates, broods and cares for the young, incubation period 30 days and young fledge 5 wks.
Parks
Kakadu National Park
Diet
Carnivore, birds; small mammals; reptiles and insects.
Details
| | | | |
| --- | --- | --- | --- |
| Common Name: | Australian Hobby, Little Falcon | Scientific Name: | Falco longipennis |
| Sub Order: | Unavailable | Order: | Falconiformes |
| Class: | Aves | Category: | Native |
| Status: | Least Concern | Size: | 350 mm, span up to 825 mm. |
This page has been viewed times