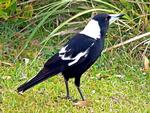 Family
Cracticidae
Habits
Diurnal, forage over open ground. communal breeding habits, live in groups that number 2-10 which jointly defend permanent territories.. Nest is a large, clumsy basket of twigs and sticks generally high in outer canopy of a eucalypt.
Habitat
Woodland Grassland, Australia wide Eucalypt woodlands.
Breeding
July to February, 3-5; very variable in colour and pattern. Female builds nest and incubates eggs alone, but the male feeds her as she does.
Diet
Carnivore, Insects and small snakes; grubs and large insect larvae.
Details
| | | | |
| --- | --- | --- | --- |
| Common Name: | Australian Magpie | Scientific Name: | Cracticus (Gymnorhina) tibicen |
| Sub Order: | Unavailable | Order: | Passeriformes |
| Class: | Aves | Category: | Native |
| Status: | Least Concern | Size: | 370 - 440 mm. |
This page has been viewed times