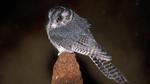 Family
Aegothelidae
Description
Like a miniature owl except for the weak pink feet. Bill very short and broad, eyes large, blackish brown. Plumage moth-like; dark-grey, freckles and barred light-brown and buff. Head marking: dark crescent starts above eye, goes back and returns under eye, encircling a grey, buff or rufous ear-patch; twin dark and buffish collars on hindneck. Immature: more buff or rufous.
Habits
Nocturnal. By day roosts in tree and stump hollows. Territories of about 50-100 ha. Sedentary, keeping to the same patch of woodland year in year out. Mates permanently.
Habitat
Forest Woodland, Forest lands; eucalypt and acacia forests and woodlands throughout mainland Australia.
Notes
Photo Noonamah NT.
Breeding
September to December, 3 to 4; white.Usually one brood per season, Incubation 25-27 days by both sexes, young fledge 20-30 days, remain with adults for several months after.
Parks
Kakadu National park
Diet
Carnivore, Insects
Details
| | | | |
| --- | --- | --- | --- |
| Common Name: | Australian Owlet-nightjar | Scientific Name: | Aegotheles cristatus |
| Sub Order: | Unavailable | Order: | Caprimulgiformes |
| Class: | Aves | Category: | Native |
| Status: | Least Concern | Size: | 205 - 240 mm. |
This page has been viewed times