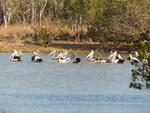 Family
Pelecanidae
Habits
When in groups fly in a loose V-formation or in line.
Habitat
Wetlands, water courses; fresh and salt water lakes; rivers; lagoons; and swamps; inland waters and fringing forests; floodplains.
Breeding
Breeding season variable depending on flood conditions, 2 to 4;pure white,Incubation 32-35 days by both sexes in shifts. Young fledge 100 days.
Parks
Kakadu National Park
Diet
Carnivore, Fish fresh and saltwater.
Details
| | | | |
| --- | --- | --- | --- |
| Common Name: | Australian Pelican | Scientific Name: | Pelecanus conspicillatus |
| Sub Order: | Unavailable | Order: | Pelecaniformes |
| Class: | Aves | Category: | Native |
| Status: | Least Concern | Size: | 1600-1800 mm |
This page has been viewed times