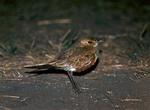 Family
Glareolidae
Habits
Diurnal, Lives in small loose groups of up to 20 , both nomadic and migratory.
Habitat
Grassland, Dry plains; inland or near coast; inland waters and fringing forest.
Breeding
August September October November, December January, 2; pale stone-colour, mark dark brown, under grey. Both sexes incubate the eggs and rear the young once hatched.
Parks
Kakadu National Park
Diet
Carnivore, Insects.
Details
| | | | |
| --- | --- | --- | --- |
| Common Name: | Australian Pratincole | Scientific Name: | Stiltia isabella |
| Sub Order: | Unavailable | Order: | Charadriiformes |
| Class: | Aves | Category: | Native |
| Status: | Least Concern | Size: | Unavailable |
This page has been viewed times