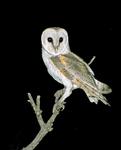 Family
Strigidae
Habits
Nocturnal, Nomadic, no territory is held and up to 5 nests have been found in a single tree. Live alone or in pairs.
Habitat
Woodland Forest, Open wooded country.
Breeding
Breeding is highly erratic in response to mice plagues, 3 to 7; oval., dull white. Incubation 33-35 days by female, young fed first by female and later by male as well, fledge in 9-10 wks.
Parks
Kakadu National Park
Diet
Carnivore, Mice; rats; bats; small birds; insects and reptiles.
Details
| | | | |
| --- | --- | --- | --- |
| Common Name: | Eastern Barn Owl | Scientific Name: | Tyto javanica (alba) |
| Sub Order: | Unavailable | Order: | Strigiformes |
| Class: | Aves | Category: | Native |
| Status: | Least Concern | Size: | 300-400 mm. |
This page has been viewed times