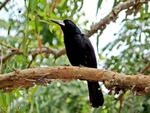 Family
Cracticidae
Habits
Diurnal, Sedentary in habit, established pairs occupy permanent territories.
Habitat
Coastal Forest, Rain-forests, mangroves & adjacent scrub.
Breeding
October to January, 4; greyish-green or cream, spots of umber. Both sexes share in nest building, incubation and the feeding of the young..
Parks
Kakadu National Park
Diet
Carnivore, Crustaceans; insects; reptiles; small birds & their eggs.
Details
| | | | |
| --- | --- | --- | --- |
| Common Name: | Black Butcherbird | Scientific Name: | Cracticus quoyi |
| Sub Order: | Unavailable | Order: | Passeriformes |
| Class: | Aves | Category: | Native |
| Status: | Least Concern | Size: | 325 - 450 mm. |
This page has been viewed times