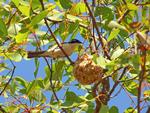 Family
Meliphagidae
Habits
Diurnal, Breeding can be communal with additional members of the colony helping the senior parental pair in feeding their young.
Habitat
Open Woodland Scrubland, Open eucalypt woodland and fringing forest and desert scrub.
Notes
Sometimes treated as the Golden-backed Honeyeater Melithreptus Laetior in Northern Australia
Breeding
July to December, 1-2 eggs, salmon-pink. Incubation probably 14-15 days. Young fledge in 13 - 14 days.
Parks
Kakadu National Park
Diet
Omnivore, Nectar and insects.
Details
| | | | |
| --- | --- | --- | --- |
| Common Name: | Black-chinned Honeyeater, Golden-backed Honeyeater | Scientific Name: | Melithreptus gularis |
| Sub Order: | Unavailable | Order: | Passeriformes |
| Class: | Aves | Category: | Endemic |
| Status: | Least Concern | Size: | Unavailable |
This page has been viewed times