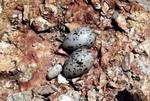 Family
Laridae
Habits
Diurnal, Gathers in small noisy groups to 10 to 100 and associates with other terns. Inshore fisher, working shallow coral pools, lagoons and reef edges.
Habitat
Coastal, and inshore waters.
Breeding
September to December, 2; white or creamy-white, spots, blothes of purplish-black/grey or dark umber . Incubation about 25 days by both sexes.
Parks
Kakadu National Park
Diet
Carnivore, Fish.
Details
| | | | |
| --- | --- | --- | --- |
| Common Name: | Black-naped Tern | Scientific Name: | Sterna sumatrana |
| Sub Order: | Unavailable | Order: | Charadriiformes |
| Class: | Aves | Category: | Native |
| Status: | Least Concern | Size: | Unavailable |
This page has been viewed times