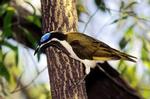 Family
Meliphagidae
Habits
Diurnal, Forms small groups, they have a strong flapping flight following each other from tree to tree. Breed in groups, often taking over the deserted roosting nests of Grey-crowned Rabblers
Habitat
Forest Woodland Wetlands, Open forest country; eucalypt; paperbark and pandanus woodland to edge of rainforest and mangroves; inland waters and fringing forests; open woodland.
Notes
Photo Katherine Gorge, NT.
Breeding
June to January, 2 to 3; rich salmon, sparingly spotted chestnut brown. Breeding females occupy deserted nests,
Parks
Kakadu National Park
Diet
Omnivore, Insects; nectar; native fruits and berries. Nectar of paperbacks and grevilleas as well as insects and spiders.
Details
| | | | |
| --- | --- | --- | --- |
| Common Name: | Blue-faced Honeyeater | Scientific Name: | Entomyzon cyanotis |
| Sub Order: | Unavailable | Order: | Passeriformes |
| Class: | Aves | Category: | Native |
| Status: | Least Concern | Size: | 240-300 mm. |
This page has been viewed times