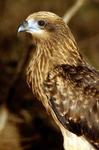 Family
Accipitridae
Description
Deep chestnut with whitish head, neck and breast, black wingtips; bill pale bone. Immature: browner and mottled, head and breast streaked buff, eye dark.
Habits
Diurnal, Solitary, pairing only to breed. Tame, inoffensive scavenger, eats small items on the wing.
Habitat
Coastal, Along coast and on offshore island, major estuaries and rivers; mangroves.
Breeding
April to August, 2 - 3; bluish-white, marked chestnut or brown. Female incubates the eggs for about 26 days. Young fly after about 50 days
Parks
Kakadu National Park
Diet
Carnivore, Scavenger; carrion; fish; crabs; sea-snakes; cuttle fish.
Details
| | | | |
| --- | --- | --- | --- |
| Common Name: | Brahminy Kite | Scientific Name: | Haliastur (Milvus) indus |
| Sub Order: | Unavailable | Order: | Falconiformes |
| Class: | Aves | Category: | Native |
| Status: | Least Concern | Size: | Male 450 mm |
This page has been viewed times