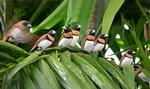 Family
Ploceidae
Habits
Diurnal, Bunch into tightflying packs,flocks of up to several hundred birds.
Habitat
Coastal Grassland, Reed-beds; cane-fields and grasslands; coastal; mangroves.
Breeding
July to December; sometimes as late as April, 4 to 8; white. Incubation 12-13 days by both sexes and fledge in 21-22 days. Breed in dense colonies with the small nests only a few mtrs apart.Both sexes sharing all duties.
Parks
Kakadu National Park
Diet
Herbivore, Seeds of grasses; sorghum cultivated crops.
Details
| | | | |
| --- | --- | --- | --- |
| Common Name: | Chestnut-breasted Mannikin | Scientific Name: | Lonchura castaneothorax |
| Sub Order: | Unavailable | Order: | Passeriformes |
| Class: | Aves | Category: | Native |
| Status: | Least Concern | Size: | 110-115 mm. |
This page has been viewed times