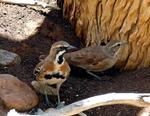 Family
Orthonychidae
Description
Habits
Diurnal, Lives almost entire life on ground. Breeding pairs maintain a local territory.
Habitat
Desert Stone Country, Open arid stony country.Where colours harmonise with surroundings
Breeding
August September October, 2; buffy white to brownish grey with streaks of umber brown and a few underlying markings of dull bluish-grey. The female nest builds, incubates and broods the young, male assists in feeding.
Diet
Omnivore, Insects and seeds.
Details
| | | | |
| --- | --- | --- | --- |
| Common Name: | Cinnamon Quail-thrush | Scientific Name: | Cinclosoma cinnamomeum |
| Sub Order: | Unavailable | Order: | Passeriformes |
| Class: | Aves | Category: | Endemic |
| Status: | Least Concern | Size: | Unavailable |
This page has been viewed times