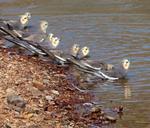 Family
Psittacidae
Habits
Migatory in the southern parts of its range and nomadic elsewhere
Habitat
Grassland Woodland , Inland parts of Australia where suitable habitat exists; rarely extending to coastal areas; open lightly timbered country.
Breeding
August to December, 4 to 7; white.Incubation 18-20 days by both sexes. chick remain in nest for 4-5 wks and are fed by both parents.
Parks
Kakadu National Park
Diet
Herbivore, Seeds of grasses and herbaceous plants.
Details
| | | | |
| --- | --- | --- | --- |
| Common Name: | Cockatiel | Scientific Name: | Nymphicus hollandicus |
| Sub Order: | Unavailable | Order: | Psittaciformes |
| Class: | Aves | Category: | Endemic |
| Status: | Least Concern | Size: | 320 mm |
This page has been viewed times