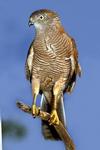 Family
Accipitridae
Description
Sexes differ markedly in size; male smaller than the female. Very slightly forked tail, distinct pale rufous collar on hindneck, feet have very long middle toe.
Habits
Diurnal,
Habitat
Woodland Forest Wetlands, Wooded country; open forest; inland waters and fringing forests. Most characteristic habitat is timbered gorges in inland and Northern australia where pools attract birds.
Breeding
September to December, 2 to 4; dull white or bluish-white sometimes spotted. Incubation period 3 wks by female only, fledge in 4 wks.
Parks
Kakadu National Park
Diet
Carnivore, Small birds; mammals; reptiles; insects.
Details
| | | | |
| --- | --- | --- | --- |
| Common Name: | Collared Sparrowhawk | Scientific Name: | Accipiter cirrhocephalus |
| Sub Order: | Unavailable | Order: | Falconiformes |
| Class: | Aves | Category: | Native |
| Status: | Least Concern | Size: | 300 - 400 mm, span up to 760 mm. |
This page has been viewed times