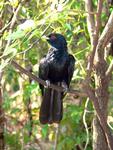 Family
Cuculidae
Habits
Diurnal, Do not build their own nests but lay their eggs in the nest of others. Often seen in pairs or trios, and flocks may congregate at fruiting trees.
Habitat
Forest Wetlands, Thick river vegetation or monsoon thickets.
Breeding
September to March, Lays an egg in the nest of Blue-faced Honeyeaters, friarbirds, figbirds, orioles, and magpie larks. Egg hatches in about 13-14 days.
Parks
Kakadu National Park
Diet
Herbivore, Fruit.
Details
| | | | |
| --- | --- | --- | --- |
| Common Name: | Common Koel, Eastern Koel | Scientific Name: | Eudynamys orientalis (scolopacea) |
| Sub Order: | Unavailable | Order: | Cuculiformes |
| Class: | Aves | Category: | Native |
| Status: | Least Concern | Size: | 390-460 mm |
This page has been viewed times