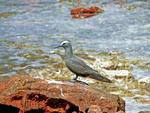 Family
Laridae
Habits
Diurnal, Able to swim well and rest on the water for hours without becoming waterlogged. Roosts on small islets, reefs, flotsam and even the backs of turtles.
Habitat
Coastal, islands and coral cays.
Notes
Photo Ashmore Reef
Breeding
July to January, 1; varying considerably in colour, shape and distribution of marks. Nest building and incubation is shared by both sexes. Incubation period 34 days.
Parks
Kakadu National Park
Diet
Carnivore, Small fish and other marine-life.
Details
| | | | |
| --- | --- | --- | --- |
| Common Name: | Common Noddy | Scientific Name: | Anous stolidus |
| Sub Order: | Unavailable | Order: | Charadriiformes |
| Class: | Aves | Category: | Native |
| Status: | Not Evaluated (in the NT) | Size: | Unavailable |
This page has been viewed times