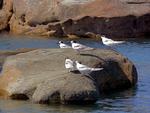 Family
Laridae
Habits
Diurnal, Single or loose groups of up to 10, often in same local grounds each year.
Habitat
Coastal, Non breeding migrant; eastern and northern Australian coast. Saline or brackish estuaries; inlets and shallow lakes; tidal flats.
Breeding
May to August mid-northern Eurasia, 2-4 eggs, grey blotched brown Incubation about 20 days by both sexes.
Parks
Kakadu National Park
Diet
Carnivore, insects and fish.
Details
| | | | |
| --- | --- | --- | --- |
| Common Name: | Common Tern | Scientific Name: | Sterna hirundo |
| Sub Order: | Unavailable | Order: | Charadriiformes |
| Class: | Aves | Category: | Native |
| Status: | Least Concern | Size: | Unavailable |
This page has been viewed times