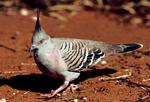 Family
Columbidae
Habits
Often gather in large numbers near waterholes.
Habitat
Grassland, Most of mainland Australia , dry lightly wooded grasslands.
Breeding
September to November, but at any time after rainfall, 2 eggs, smooth, glossy white. Incubation 18-20 days by both sexes. Young fledge in 20-25 days. May rear up to seven successive broods, breeding continuously for several months.
Parks
Kakadu National Park
Diet
Herbivore, seeds.
Details
| | | | |
| --- | --- | --- | --- |
| Common Name: | Crested Pigeon | Scientific Name: | Ocyphaps lophotes |
| Sub Order: | Unavailable | Order: | Columbiformes |
| Class: | Aves | Category: | Endemic |
| Status: | Least Concern | Size: | 305 - 355 mm. |
This page has been viewed times