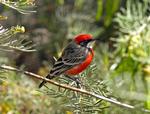 Family
Epthianuridae
Habits
Diurnal, Nomadic and irruptive suddenly appearing in numbers in regions where it has not been recorded for years Gregarious and travels in flocks of 10s to 100s. Often nest in loose colonies,
Habitat
Grassland Shrubland, Open country studded wth low bushes. Scrubby shrub savanna and tree savanna of inland plains.
Breeding
October, November, December, 3 to 4; white, sparingly spotted reddish -purple. Both sexes share all aspects of nest-building, incubation, and care of the young. Incubation period 12 day, young fledge in 14 days.
Diet
Carnivore, Insects; occasional nectar consumers.
Details
| | | | |
| --- | --- | --- | --- |
| Common Name: | Crimson Chat | Scientific Name: | Epthianura tricolor |
| Sub Order: | Unavailable | Order: | Passeriformes |
| Class: | Aves | Category: | Endemic |
| Status: | Least Concern (Rare Vagrant) | Size: | Unavailable |
This page has been viewed times