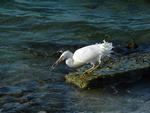 Family
Ardeidae
Description
Bill longer and heavier, legs shorter than comparable herons or egrets. Two colour phases: 1) uniform dark-grey, with slight white streak down centre of throat; bill grey, facial skin yellow-green, legs grey with dull-yellow wash. 2) pure white, bill yellowish often with grey or horn coloured upper mandible, legs dull yellow-grey. Both have somewhat longer breeding plumes on back and breast.
Habits
Diurnal nocturnal, Forage both day and night. Hunts alone in an area excludes from others. Roosts and nests in loose colonies.
Habitat
Coastal, Rocky coasts; islands and reefs; mudflats; tidal flats; scrub; pandanus adjacent to beaches.
Notes
Photo Darwin Harbour
Breeding
September to January (nearly all year), 2 to 3; pale bluish-white, nest a simple platform of sticks in a tree., Incubation 25-28 day, young fledge in 5-6 wks.
Parks
Kakadu National Park
Diet
Carnivore, Small fishes; molluscs; crustaceans; marine life.
Details
| | | | |
| --- | --- | --- | --- |
| Common Name: | Eastern Reef Egret | Scientific Name: | Egretta (Ardea) sacra |
| Sub Order: | Unavailable | Order: | Ciconiiformes |
| Class: | Aves | Category: | Native |
| Status: | Least Concern | Size: | 610 - 660 mm. |
This page has been viewed times