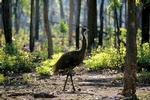 Family
Dromaiidae
Description
Habits
Diurnal, Regular seasonal migrations. Usually pair between summer and autumn and remain together for about 5 months.
Habitat
Grassland, Forest, Woodland, Wetlands, Grassy plains; open woodland; open forest.
Notes
Photo Goomardeer River, NT.
Breeding
April to November. Usually nine eggs, dark green in colour. Male incubates the eggs, starting before the female has completed the clutch. Female wanders off immediately after laying the clutch. Male sits continuously during the 8 weeks required for incubation, and looks after the chicks for as long as 18 months.
Parks
Kakadu National Park
Diet
Omnivore, Grasses; caterpillars and grasshoppers; fruits and flowers.
Details
| | | | |
| --- | --- | --- | --- |
| Common Name: | Emu | Scientific Name: | Dromaius novaehollandiae |
| Sub Order: | Unavailable | Order: | Struthioniformes |
| Class: | Aves | Category: | Native |
| Status: | Near Threatened | Size: | Stands up to 2 m. high. |
This page has been viewed times