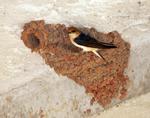 Family
Hirundinidae
Habits
Diurnal, most communal of swallow, whether nesting or foraging, they keep to tight flock of a dozen or so to some hundreds. Partly migratory.
Habitat
Grassland, Woodland, Shrubland, Wetlands, Forest, Near streams and lakes.
Breeding
September to January. 4 to 5 dull white eggs, freckled yellow or reddish-brown. Incubation about 15 days by both sexes.
Parks
Kakadu National Park
Diet
Carnivore, Insects.
Details
| | | | |
| --- | --- | --- | --- |
| Common Name: | Fairy Martin | Scientific Name: | Petrochelidon (Hirundo) ariel |
| Sub Order: | Unavailable | Order: | Passeriformes |
| Class: | Aves | Category: | Native |
| Status: | Least Concern | Size: | Unavailable |
This page has been viewed times