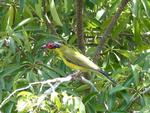 Family
Oriolidae
Habits
Diurnal, Lives in small groups, sometimes gathering in large flocks after the breeding season. Nest usually well hidden in the outer foliage of a high branch built mainly of vine tendrils and twigs.
Habitat
Coastal Lowland Forest Wetlands Woodland, gardens and parks; Humid coastal districts; rainforest; open woodland; escarpment; inland waters.
Notes
Loud strident whistle
Breeding
October to January, 3; pale-dull green. Both parents incubate the eggs and share feeding.
Parks
Kakadu National Park
Diet
Herbivore, Native and introduced fruits Mulberries; figs and soft fruits. Main diet: the fruits of Ficus.
Details
| | | | |
| --- | --- | --- | --- |
| Common Name: | Australasian Figbird | Scientific Name: | Sphecotheres viridus |
| Sub Order: | Unavailable | Order: | Passeriformes |
| Class: | Aves | Category: | Native Common |
| Status: | Least Concern | Size: | 280-290 mm. |
This page has been viewed times