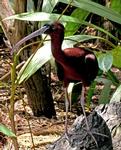 Family
Plataleidae
Habits
Breeds toegether with other ibises in small colonies. Gregarious, feed in small flocks of 2-30.
Habitat
Wetlands, Frequents swamps; lake margins and flats; floodplains and fields near water throughout mainland Australia.
Breeding
September to December. Three to four green-blue eggs. Nest a platform of sticks build between upright branches. Incubation by both sexes, and both feed young by regurgitation.
Parks
Kakadu National Park
Diet
Carnivore, Insects and other water animals. Frogs; snails; spiders and aquatic insects.
Details
| | | | |
| --- | --- | --- | --- |
| Common Name: | Glossy Ibis | Scientific Name: | Plegadis falcinellus |
| Sub Order: | Unavailable | Order: | Ciconiiformes |
| Class: | Aves | Category: | Native |
| Status: | Least Concern | Size: | 490-550 mm. |
This page has been viewed times