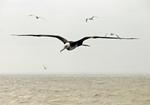 Family
Fregatidae
Habits
Diurnal, Flight swift and graceful, remains on the wing practically all day Drink while skimming low over fresh or salt water., Piratical by nature, snatch food and nesting materials from other seabirds.
Habitat
Coastal, Widespread in the tropical Atlantic; Indian and Pacific oceans.
Breeding
March to July, 1; white. Incubation about 50 day by both sexes, young fledge in 4-5 mths. Nest about once every two years because young spend so long to gain independence
Parks
Kakadu National Park
Diet
Carnivore, Young turtles; cuttle fish; flying fish; squid.
Details
| | | | |
| --- | --- | --- | --- |
| Common Name: | Great Frigatebird | Scientific Name: | Fregata minor |
| Sub Order: | Unavailable | Order: | Pelecaniformes |
| Class: | Aves | Category: | Native |
| Status: | Data Deficient | Size: | Unavailable |
This page has been viewed times