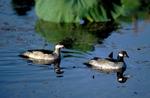 Family
Anatidae
Description
Male: glossy green-black head, neck and upperparts, large white cheek-patch, grey-white below. Bill black, tipped pink. Female and Immature: duller, faint white eyebrow. Cheeks and underparts grey-white.
Habits
Diurnal, Tend to stay in one area. When disturbed they spring from the water and fly fast and low before skidding down onto the water again. Young birds escape danger by diving and hiding beneath the leaves of water lilies
Habitat
Wetlands, Lagoons ponds and wetlands, inland waters; floodplains. Paperbark forests provide ideal nesting sites.
Breeding
January to March, 4 to11; creamy white, nest grass lined with feathers in a tree or reeds in water. Females incubate the eggs for about 26 days
Parks
Kakadu National Park
Diet
Omnivore, Aquatic animals and plants. Seeds and buds of water lilies, but also grasses and pond weeds.
Details
| | | | |
| --- | --- | --- | --- |
| Common Name: | Green Pygmy-Goose | Scientific Name: | Nettapus pulchellus |
| Sub Order: | Unavailable | Order: | Anseriformes |
| Class: | Aves | Category: | Native |
| Status: | Least Concern | Size: | Male 305-360 |
This page has been viewed times