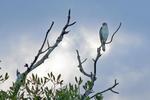 Family
Accipitridae
Description
Two distinct colour phases: 1) grey above, paler grey below very faintly but regularly barred darker, eyes dark-red. 2) pure-white, eyes yellow or dark-red. In both cere and legs yellow.
Habits
Diurnal, Sedentary, established pairs holding the same home range year after year., pairing permanent.
Habitat
Woodland Forest, temperate, subtropical and tropical rainforests, woodlands, timber along watercourses.
Notes
Phases sometimes interbreed, individual young may be of either phase. Our photo shows a white phase goshawk with a freshly killed brolga chick. Photo Barramundi Creek, Kakadu N.P.
Breeding
August to December, 2 rarely 3; faint bluish-white. Incubation period 35 days, mainly by female, usually only one brood raised per season. Young fledge 5-6 wks.
Parks
Kakadu National Park
Diet
Carnivore, Small birds; insects; cicadas and beetles; small mammals.
Details
| | | | |
| --- | --- | --- | --- |
| Common Name: | Grey Goshawk | Scientific Name: | Accipiter novaehollandiae |
| Sub Order: | Unavailable | Order: | Falconiformes |
| Class: | Aves | Category: | Native |
| Status: | Least Concern | Size: | Male 340mm |
This page has been viewed times