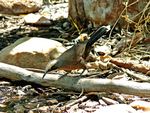 Family
Pomatostomatidae
Description
Scrub and open forest
Habits
Diurnal, Live and breed in a co-ordinated communal group which may include up to 12 . Pairs mate for life. The group as a whole defends the territory. 3/4's of the day is spend foraging by the whole day. A social sedentary species.
Habitat
Woodland Forest, along streams; open woodland.
Breeding
August to December. Three to six eggs, pale brown to purplish-brown and buff. Both sexes build the nest, the female incubates and brood alone. Incubation period 18-23 days, young fledge 21 days.
Parks
Kakadu National Park
Diet
Carnivore, Insects; arthropods found in litter and on tree trunks and branches.
Details
| | | | |
| --- | --- | --- | --- |
| Common Name: | Grey-crowned Babbler | Scientific Name: | Pomatostomus temporalis |
| Sub Order: | Unavailable | Order: | Passeriformes |
| Class: | Aves | Category: | Endemic |
| Status: | Least Concern | Size: | 250 mm. |
This page has been viewed times