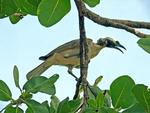 Family
Meliphagidae
Habits
Usually forage alone, they wander locally by day, return to rainforest to roost in the canopy.
Habitat
Forest Coastal Wetlands Stone Country, Rain-forests; mangroves; vegetation along watercourses; escarpment.
Breeding
August to January. 3 to 4 pinkish-white eggs. Female builds the nest and incubates the eggs, the male assists in feeding.
Parks
Kakadu National Park
Diet
Omnivore, Insects; nectar; native fruits and berries.
Details
| | | | |
| --- | --- | --- | --- |
| Common Name: | Helmeted Friarbird | Scientific Name: | Philemon buceroides |
| Sub Order: | Unavailable | Order: | Passeriformes |
| Class: | Aves | Category: | Native |
| Status: | Least Concern | Size: | Unavailable |
This page has been viewed times