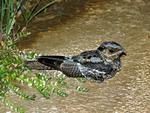 Family
Caprimulgidae
Habits
Nocturnal. Pair permanently and keep to the same small territory all year. Roost alone by day. Courtship may sometimes involve 2 or 3 pairs of birds.
Habitat
Coastal Wetlands Forest, Edge of rainforests; paperbark swamps; mangroves.
Breeding
August to January. Usually one brood per season. 2 eggs, pinkish-reddish cream. Incubation 21-22 days, mainly by female. Young are fed by both parents, and fledge at 3-4 weeks.
Parks
Kakadu National Park
Diet
Carnivore, Nocturnal flying insects.
Details
| | | | |
| --- | --- | --- | --- |
| Common Name: | Large-tailed Nightjar | Scientific Name: | Caprimulgus macrurus |
| Sub Order: | Unavailable | Order: | Caprimulgiformes |
| Class: | Aves | Category: | Native |
| Status: | Least Concern | Size: | 260 - 280 mm. |
This page has been viewed times