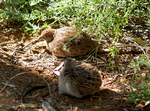 Family
Turnicidae
Habits
Diurnal, Highly nomadic, fairly solitary or in small family groups, . Females are bigger and brighter than males, dominate breeding but hold smaller territories than other species and defend them less vigorously.,
Habitat
Shrubland Woodland Grassland Stone Country, Widespread throughout inland.
Breeding
Breeds in all months. 3-5 eggs, slightly off-white. Incubation 13-14 days. Male incubates and rears the young alone.
Parks
Kakadu National Park
Diet
Omnivore, seeds and native grasses; insects.
Details
| | | | |
| --- | --- | --- | --- |
| Common Name: | Little Button-quail | Scientific Name: | Turnix velox |
| Sub Order: | Unavailable | Order: | Gruiformes |
| Class: | Aves | Category: | Endemic |
| Status: | Least Concern | Size: | Unavailable |
This page has been viewed times