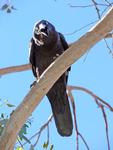 Family
Corvidae
Habits
Diurnal, Sociable and birds of all ages mix in small to large flocks of up to several hundred.
Habitat
Grassland Woodland, Interior of Australia generally, extending to the coast of WA.
Breeding
July to October. 4-6 eggs; ground colour blue. Often breeds in small colonies. Incubation 17-19 days. Incubated by the female. Young fledge 29-31days.
Diet
Omnivore, Insects and small reptiles; plant material.
Details
| | | | |
| --- | --- | --- | --- |
| Common Name: | Little Crow | Scientific Name: | Corvus bennetti |
| Sub Order: | Unavailable | Order: | Passeriformes |
| Class: | Aves | Category: | Endemic |
| Status: | Least Concern | Size: | 410 - 480 mm. |
This page has been viewed times