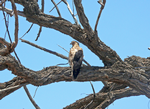 Family
Accipitridae
Description
Long feathered legs, square-cut tail, partial crest on nape. Dark Phase: deep- sandy with long black marks on crown, crest and sides of face; dark grey-brown above with distinct fawn band across wing. Pale Phase: head and sides of neck rich-buff, dark-brown above with fawn band across wing, whitish below and on trousers. Immature: Pale phase - very different; patterned like adult but washed pale-chestnut on head, back and upperbreast.
Habits
Diurnal, Sedentary bird,leisurely hunter prefers live prey, Pairs mate for life,
Habitat
Woodland Grassland Shrubland, plains; foothills; open woodlands and scrublands; usually near water, timber along watercourses and lakes.
Breeding
August to November. 1 to 2, bluish-white eggs, with red-brown spots. Incubation period 30-35 days, mostly by female. Usually only one young fledges at about 50 days.
Parks
Kakadu National Park
Diet
Carnivore, Rabbits; small mammals & reptiles; large insects and occasionally small birds.
Details
| | | | |
| --- | --- | --- | --- |
| Common Name: | Little Eagle | Scientific Name: | Hieraaetus morphnoides |
| Sub Order: | | Order: | Falconiformes |
| Class: | Aves | Category: | Native |
| Status: | Least Concern (Rare Vagrant) | Size: | Male 480 mm |
This page has been viewed times