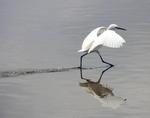 Family
Ardeidae
Description
Fine bill is black; with yellowish base to lower mandible, contrasting with bright-yellow facial skin. Legs and feet black with yellow soles. Breeding plumage: ribbon like head-plumes, plumes on head back and breast. Immature: yellow-green facial skin, grey-green legs.
Habits
Diurnal, Nomadic Large wading birds, feeds along and defends its feeding area from other birds. Little Egrets rarely enter water deeper than 10cm Forages alone. Often nervously active, dasking about in sahllow water, raising and fluttering wings.
Habitat
Coastal Wetlands, and inland mud flats around Australia; mangroves; tidal estuaries; salt marshes; inland waters and fringing forest; floodplains.
Breeding
Breeds throughout year. 3 to 6; bluish green, nest of sticks in trees. Both males and females, incubating the eggs for 21-27 days. Young fly after 35-50 days
Parks
Kakadu National Park
Diet
Carnivore, Aquatic animals.
Details
| | | | |
| --- | --- | --- | --- |
| Common Name: | Little Egret | Scientific Name: | Egretta (Ardea) garzetta |
| Sub Order: | Unavailable | Order: | Ciconiiformes |
| Class: | Aves | Category: | Native |
| Status: | Least Concern | Size: | 560 mm. |
This page has been viewed times