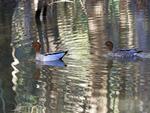 Family
Anatidae
Description
Short black bill and longish neck and legs, Male: head and neck chocolate-brown with short black mane; body and wings pale-grey, undertail black. Female: paler; head and neck pale gingery-brown, dark under tail-coverts. Immature: like female, duller.
Habits
Diurnal, Mate for life,
Habitat
Woodland, Streams; timbered swamps and waterholes; earth dams, occasionally on sea.
Breeding
Breeding dependant on rainfall. 6 to12; creamy white eggs in a hole in tree nest lined with feathers Incubation 28 days by female while male guards, both sexes care for the young once hatched. Fledge in 50 days.
Diet
Omnivore, Grass and herbage on the waters edge; insects and small invertebrates.
Details
| | | | |
| --- | --- | --- | --- |
| Common Name: | Australian Wood Duck, Maned Duck | Scientific Name: | Chenonetta jubata |
| Sub Order: | Unavailable | Order: | Anseriformes |
| Class: | Aves | Category: | Endemic |
| Status: | Least Concern | Size: | Male 420-590 |
This page has been viewed times