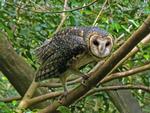 Family
Strigidae
Habits
Nocturnal, Mate permanently and hold to the same territory all year round.
Habitat
Coastal Woodland Stone Country, Coastal regions of Australia; eucalypt forests; denser woodlands.
Notes
There are two subspecies of Masked Owl in the NT. Tyto novaehollandiae kimberli is found in mainland Top End, and is listed as Vulnerable, whilst Tyto novaehollandiae melvillensis is found on the Tiwi Islands, and is listed as endangered.
Breeding
Breeds erraticaly at any time, depending on food supply, 2 to 3; pearly white. Incubation about 35 days by female, young brood by first 2-3 weeks then fed by both adults. Fledge in 10-12 wks.
Parks
Kakadu National Park
Diet
Carnivore, Small mammals; reptiles; birds.
Details
| | | | |
| --- | --- | --- | --- |
| Common Name: | Masked Owl | Scientific Name: | Tyto novaehollandiae |
| Sub Order: | Unavailable | Order: | Strigiformes |
| Class: | Aves | Category: | Endemic |
| Status: | Vulnerable | Size: | Unavailable |
This page has been viewed times