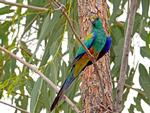 Family
Psittacidae
Habits
Rarely flock, but pairs or family parties often gather to feed where food is plentiful. Most feeding is done on the ground, forage early in the morning and late in the afternoon.
Habitat
Forest Grassland Shrubland, Scrub lands and open forests; lightly timbered country.
Breeding
July August September October November December, 4 to 6; white. Incubation 19 days by female, young fledge 4 weeks.
Diet
Herbivore, Seeds of grasses and herbaceous plants.
Details
| | | | |
| --- | --- | --- | --- |
| Common Name: | Mulga Parrot | Scientific Name: | Psephotus varius |
| Sub Order: | Unavailable | Order: | Psittaciformes |
| Class: | Aves | Category: | Endemic |
| Status: | Least Concern | Size: | Unavailable |
This page has been viewed times