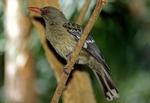 Family
Oriolidae
Habits
Competent mimic of other bird calls. Nest is a purse-shaped stucture built of wool, plant down, bark fragments and other soft materials.
Habitat
Forest Woodland, open woodland.
Breeding
September October November December January, 2 to 4; cream. Incubation period 17-18 days by female, young fledge 15-17 days.
Parks
Kakadu National Park
Diet
Omnivore, Native fruits; berries and insects; ants, caterpillars.
Details
| | | | |
| --- | --- | --- | --- |
| Common Name: | Olive-backed Oriole | Scientific Name: | Oriolus sagittatus |
| Sub Order: | Unavailable | Order: | Passeriformes |
| Class: | Aves | Category: | Native |
| Status: | Least Concern | Size: | 250-280 mm |
This page has been viewed times