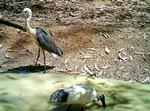 Family
Ardeidae
Description
Our only heron with black bill and legs, white head and neck, and slaet-grey to blackish body, wings and tail; dark spots down centre of foreneck, some streaks below. Breeding plumage: maroon plumes on back and wings. Immature: more buffy white.
Habits
Diurnal,
Habitat
Coastal Wetlands, Areas of shallow water; fresh waters generally; wet fields; floodplains; inland water; rarely salt or brackish waters.
Breeding
Breeds throughout year depending on food. 4 to 6; pale bluish green, nest bulky platform of sticks in a tree. Incubation by both sexes.
Parks
Kakadu National Park
Diet
Carnivore, Fish; small reptiles; freshwater molluscs; frogs; aquatic insects.
Details
| | | | |
| --- | --- | --- | --- |
| Common Name: | White-necked Heron, Pacific Heron | Scientific Name: | Ardea pacifica |
| Sub Order: | Unavailable | Order: | Ciconiiformes |
| Class: | Aves | Category: | Native |
| Status: | Least Concern | Size: | 1050 mm. |
This page has been viewed times