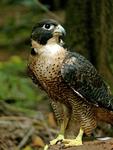 Family
Accipitridae
Description
Slate-blue above, mottled darker, white or creamy buff below, unmarked upperbreast forming conspicuous pale bib, lower breast and trousers finely barred black. Wholly black crown and cheeks, bill blue-grey tipped black. Cere, eyering and legs yellow. Immature: dark-brown above including cheeks, finely margined pale-buff or rufous, buff to deep-buff below, breast streaked or spotted blackish. Cere, eyering and legs bluish.
Habits
Diurnal, Swiftest of all hunting hawks. Mate for life and occupy same home range and nest year after year. Become much rarer in recent years because of the thinning and breaking of its egg shells caused by volatile insecticides. Sedentary, nomadic or part-migratory.
Habitat
Forest Shrubland Stone Country Woodland, Heavily timbered ruggedly mountainous country; cliffs; water courses.
Notes
Because of the dramatic effct of DDt on its numbers it is regarded as a vulnerable species (Slater, 1978, Ovington, 1978).
Breeding
August September October November, 2 to 3; buff, reddish-brown markings. Incubation 30 days mainly by female, young fledge 5-6wks.
Parks
Kakadu National Park
Diet
Carnivore, Birds; small mammals; reptiles and insects.
Details
| | | | |
| --- | --- | --- | --- |
| Common Name: | Peregrine Falcon | Scientific Name: | Falco peregrinus |
| Sub Order: | Unavailable | Order: | Falconiformes |
| Class: | Aves | Category: | Native |
| Status: | Least Concern | Size: | Male 380 mm |
This page has been viewed times