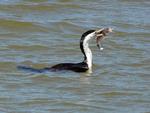 Family
Phalacrocoracidae
Habits
Off their coastal colonies they often congregate in thousands on shoals of fish, but inland they are more solitary. Capture food by underwater pursuit.
Habitat
Coastal Wetlands, Swamps; lakes; streams; inlets or rocky islands; mangroves; floodplains; inland waters and fringing forests.
Breeding
Breeding in colonies at any time depending on food supply, 3 to 5; pale bluish-white coated with lime, nest sticks lined with leaves. Incubation about 30 days by both sexes, young fledge about 50 days.
Parks
Kakadu National Park
Diet
Carnivore, Aquatic animal-life; fish; crustaceans and molluscs.
Details
| | | | |
| --- | --- | --- | --- |
| Common Name: | Pied Cormorant, Yellow-Faced Cormorant | Scientific Name: | Phalacrocorax varius |
| Sub Order: | Unavailable | Order: | Pelecaniformes |
| Class: | Aves | Category: | Endemic |
| Status: | Least Concern | Size: | 660-680 mm |
This page has been viewed times