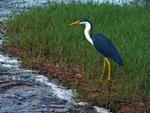 Family
Ardeidae
Description
A striking small slate-grey heron with straw-yellow bill and legs, blackish crown and crest, white cheeks, throat and neck. Immature: no crest; head, neck and underparts white often with smutty markings; reddish brown to dark blue-grey above.
Habits
Diurnal, Special hinge at 6th neckbone to allow them to stike quickly at prey. When feeding they walk quickly and peck frequently. Dainty, gregarious birds, commonly gather in loose feeding groups of 5-30 or more. Adults tend to be more solitary, Roost and nest colonially.
Habitat
Coastal Wetlands, In saltwater and freshwater coastal swamps and adjacent grasslands; inland waters; floodplains.
Breeding
December January February March April May, 3 to 4; deep blue green, nest of twigs in mangrove tree. Both sexes incubate the eggs for about 25 days, Young fly after 40 days
Parks
Kakadu National Park
Diet
Carnivore, Fish; tadpoles; frogs; shrimp; insects and snails; crustaceans.
Details
| | | | |
| --- | --- | --- | --- |
| Common Name: | Pied Heron | Scientific Name: | Egretta (Ardea) picata |
| Sub Order: | Unavailable | Order: | Ciconiiformes |
| Class: | Aves | Category: | Native |
| Status: | Least Concern | Size: | 450-480 mm. |
This page has been viewed times