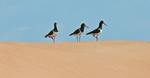 Family
Haematopodidae
Habits
noisy, quite sedentary and sociable when not breeding. Commonly roost and rest in small groups on territorial sand bars. Pairs mate for life and defend territories throughout the year.
Habitat
Coastal, Beaches; sand-spits; tidal mud-flats; estuaries.
Breeding
July August September, 2; brownish white, colour, shape & distribution vary greatly. Incubation about 28-32 days, by both sexes but mainly female. Young fly in 5-9 wks.
Parks
Kakadu National Park
Diet
Carnivore, Small molluscs; crustaceans; other marine animals.
Details
| | | | |
| --- | --- | --- | --- |
| Common Name: | Australian Pied Oystercatcher | Scientific Name: | Haematopus longirostris |
| Sub Order: | Unavailable | Order: | Charadriiformes |
| Class: | Aves | Category: | Native |
| Status: | Least Concern | Size: | Unavailable |
This page has been viewed times